Hair loss can be experienced as a painful event by both men and women. According to some recent studies, baldness affects at least 80% of men and up to 10% of women in some form. Baldness is present in all ethnic groups and cultures.
Hair loss is very common in both men and women. There are many causes that can lead to diffuse or localized hair loss.
Alopecia is distinguished from baldness. Alopecia concerns the slow and progressive loss of hair on all or part of the skull. Baldness refers to the total loss of hair mass.
Baldness with permanent hair loss is rather predominant in men, we speak of androgenetic baldness. It is rarer in women because estrogens have a protective activity. The absence or loss of hair can be permanent, in whole or in part.
Hair loss can have several causes:
• A hormonal cause
• A hereditary cause
[object Object]
Indications:
• Hair loss during the change of season.
• Hair that loses density, becomes brittle and dull.
• Hair loss due to a major health problem (thyroid problem, chemotherapy, infection).
• Hair loss after pregnancy, an important event causing a state of stress.
TIME REQUIRED
Duration of hospital stay
20 to 30 minutes.
No anesthesia.
Average length of stay
2 days.
Be careful, several sessions may be planned.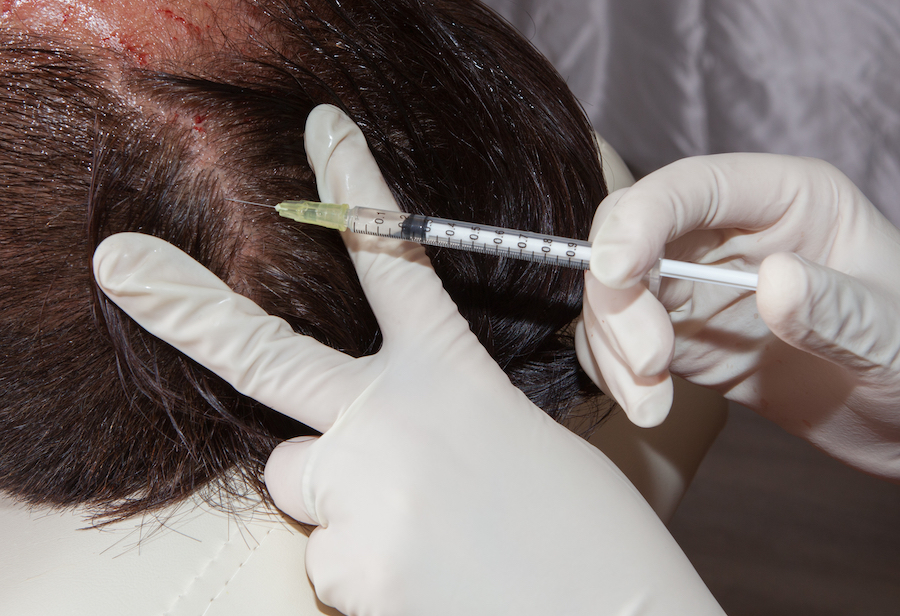 Hair loss
How to find quality treatment abroad
Every year, nearly 11 million patients go abroad in search of medical care. At MEDICAIM, we provide our patients with access to the best hospitals and doctors around the world. Contact us to learn more about your treatment options.
383
Patients who have used MEDICAIM
600
Clinics in 25 countries
178
Countries represented by MEDICAIM patients
24/7
Availability of MEDICAIM customer service
Ask for your free quote abroad
Start your medical stay by requesting a quote. Our customer service department will help you find the clinic that best suits your needs and get you a quote.
Aspirin or thinning medication should be avoided 48 hours before the session. There are no side effects. It is advisable not to shampoo the day after the session. No swimming pool, hammam sauna for 48 hours.
Mesotherapy consists in injecting into the thickness of the scalp a mixture of vitamins, minerals (zinc, copper), amino acids and non-crosslinked hyaluronic acid, active vasodilator in each cm2 of scalp to be treated. It is an effective and painless treatment.
Mesotherapy of the scalp will stimulate the hair bulb and thus hair growth. This will moisturize the scalp, revitalize the hair and reduce dandruff.
In addition, the action of LEDs can improve blood microcirculation and oxygen supply. It stimulates cellular metabolism. The anti-inflammatory action is also very interesting by reducing sebum production and decreasing hyperkeratosis.
The purpose of LED photo-biostimulation in the treatment of alopecia is to slow down or even stop hair loss, stimulating follicles that only produce fine down.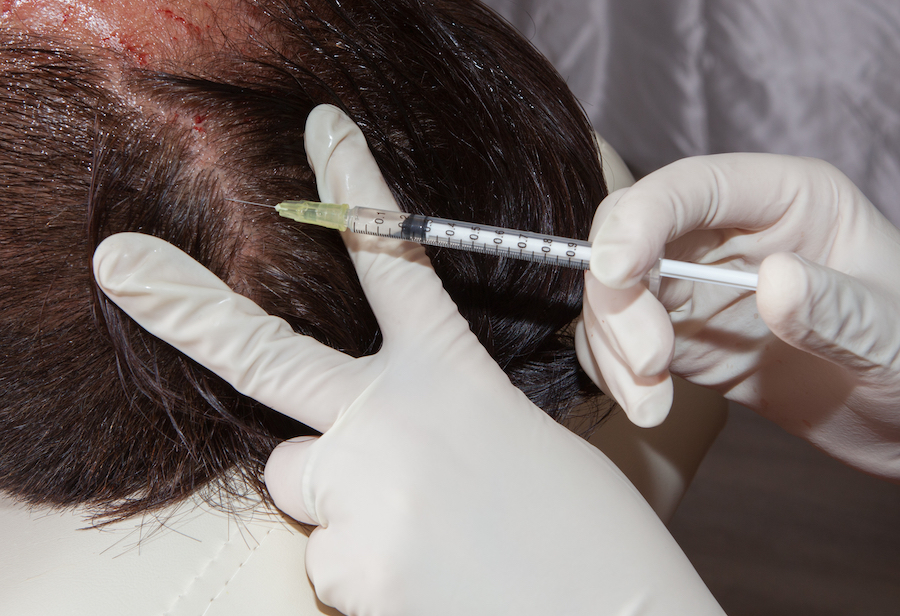 After your mesotherapy session associated with the LED lamp, the quality of your hair improves significantly:
• More regrowth
• Better density
• Slower Hair loss
• Protection against oxidizing agents
• Reduction of dandruff
To date, mesotherapy combined with LED light represents the most complete solution to stimulate the hair growth process.
It will also complete hair transplant.
About Hair loss
Contraindications:
• Infectious lesions
• Shingles
• Allergies to one of the components of the injected product
Any additional questions? Ask your MEDICAIM doctor about it: careteam@medicaim.com