Coronary angiography is a medical imaging technique that allows the coronary arteries to be visualized. This examination requires the injection of an arterial contrast medium (most often iodine), which reveals possible pathologies of the heart arteries. Coronary angiography is performed in the event of a myocardial infarction in order to locate arterial stenosis.
This is an essential test when coronary artery disease such as angina pectoris or myocardial infarction is suspected. Coronary angiography is concerned only with the study of the arteries of the heart.
Angiography is indicated when myocardial infarction or angina pectoris is suspected, i. e. when:
• Persistent pain in the rib cage.
• Atypical discomfort in a subject with risk factors (over 50 years of age, diabetic, high cholesterol)
• Abnormal electrocardiogram.
TIME REQUIRED
Duration of hospital stay
24 to 48 hours.
The examination requires a short hospital stay.
Average length of stay
2 to 4 days.
Tiring exam.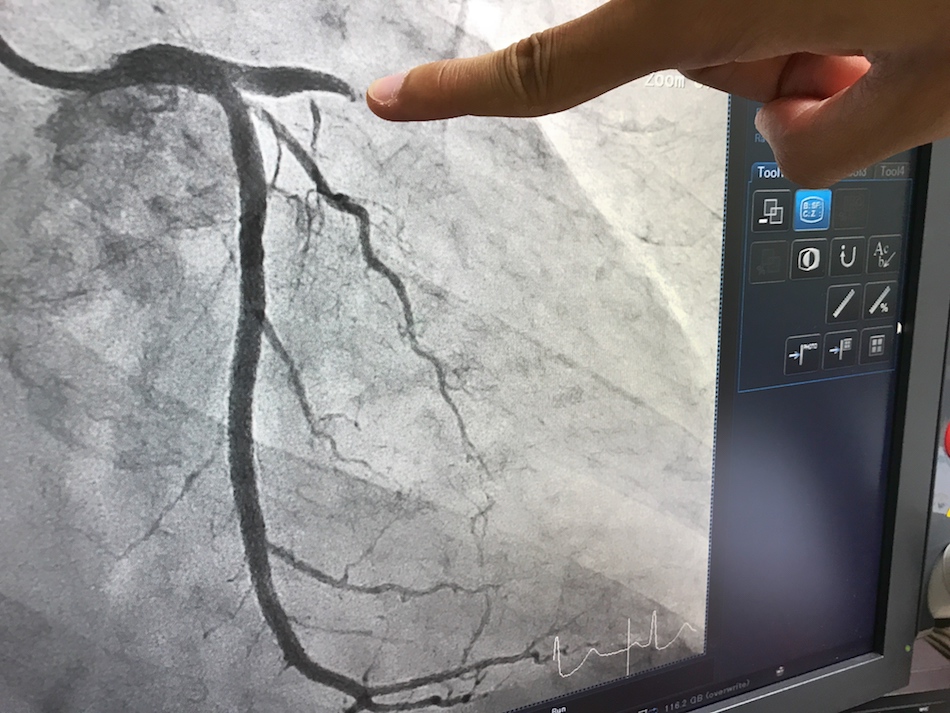 Coronary angiography
How to find quality treatment abroad
Every year, nearly 11 million patients go abroad in search of medical care. At MEDICAIM, we provide our patients with access to the best hospitals and doctors around the world. Contact us to learn more about your treatment options.
383
Patients who have used MEDICAIM
600
Clinics in 25 countries
178
Countries represented by MEDICAIM patients
24/7
Availability of MEDICAIM customer service
Ask for your free quote abroad
Start your medical stay by requesting a quote. Our customer service department will help you find the clinic that best suits your needs and get you a quote.
A cardiologist performs this examination.
Before the exam, you will go to the cloakroom to undress (you will be told which clothes to remove). A tranquilizer may be given to you to reduce apprehension.
A venous infusion will be placed on your arm.
Coronary angiography requires a short hospital stay of 24 to 48 hours. A blood test and a cardiological examination are performed before the examination.
You must be fasting on the day of the exam, i.e. do not eat, drink or smoke four to six hours before.
Some medications may be stopped by your doctor. Take the rest of your usual treatment.
If you are allergic (contrast agent), you will need to take tablets the day before and on the day of the exam.
During the examination, the patient lies on his/her back. The cardiologist constantly records your heart rate and blood pressure.
The examination is performed under sterile conditions and under local anaesthesia. The cardiologist first disinfects the skin and then performs the local anaesthesia. When the area is asleep, he/she inserts a catheter into an artery in the fold of the groin or arm. It routes this catheter up to the origin of the coronary arteries by going up into the aorta; the examination is carried out under the permanent control of a screen. The contrast medium is injected and several images are taken to visualize the vascular network.
If an obstacle is identified, an angioplasty can be performed: it consists of dilating the narrowed vessel with a small balloon.
The exam lasts from 30 minutes to about an hour.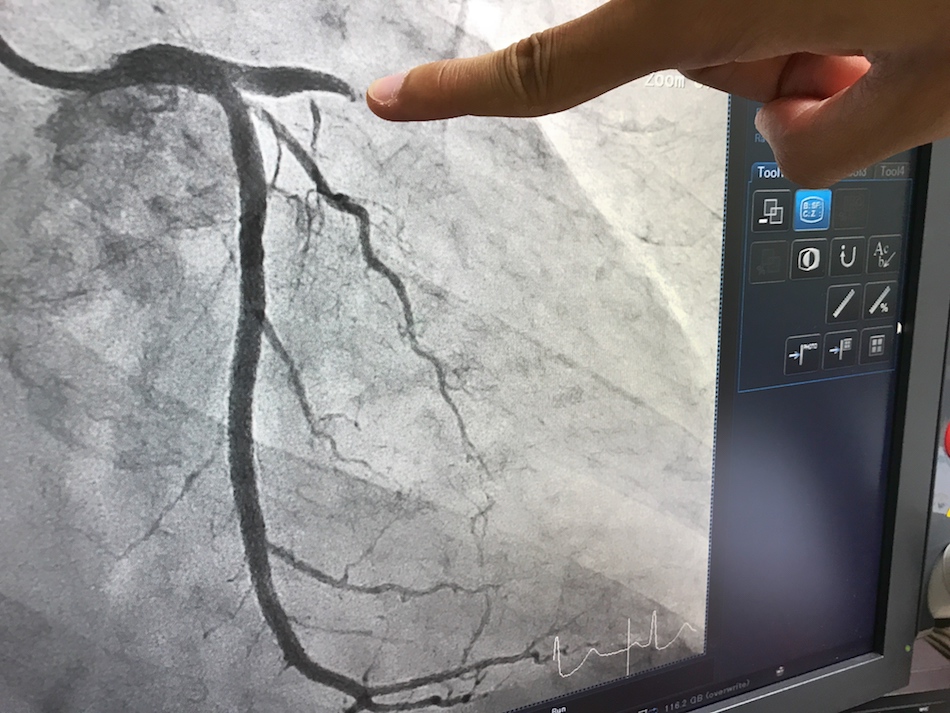 The catheter is removed and the vessel is compressed to prevent bleeding. It is necessary to lie down for a few hours, a 48-hour hospital stay is often recommended. You will be able to eat and drink normally.
About Coronary angiography
It will be necessary to report:
• If you are pregnant
• If you are allergic
• The list of medications you are taking.
• Your medical and surgical history.
Some complex diseases such as cancer can lead some patients to seek a second medical opinion. Almost 50% of patients using the second medical opinion have seen their treatment options evolve. Seeking a second medical opinion is perfectly legitimate when faced with a serious illness.
Click here to find out more about the second MEDICAIM medical opinion
MEDICAIM takes care of the follow-up on a case-by-case basis. www.medicaim.com
MEDICAIM is looking for the best specialists for you and we will offer you several renowned doctors.
MEDICAIM organizes your entire stay for you: post-operative nursing care, biological follow-up, therapeutic, nutritional and psychological support.
Any additional questions? Ask your MEDICAIM doctor about it: careteam@medicaim.com